Post by djbar on Feb 26, 2017 23:50:49 GMT -5
The 75th anniversary of the Battle of the Java Sea is February 27th. Some friends and I recently got together for a game of Naval Thunder recreating the battle.
In order to make the battle more evenly matched, we altered history and had the Naka and her six DDs detached to "investigate another contact".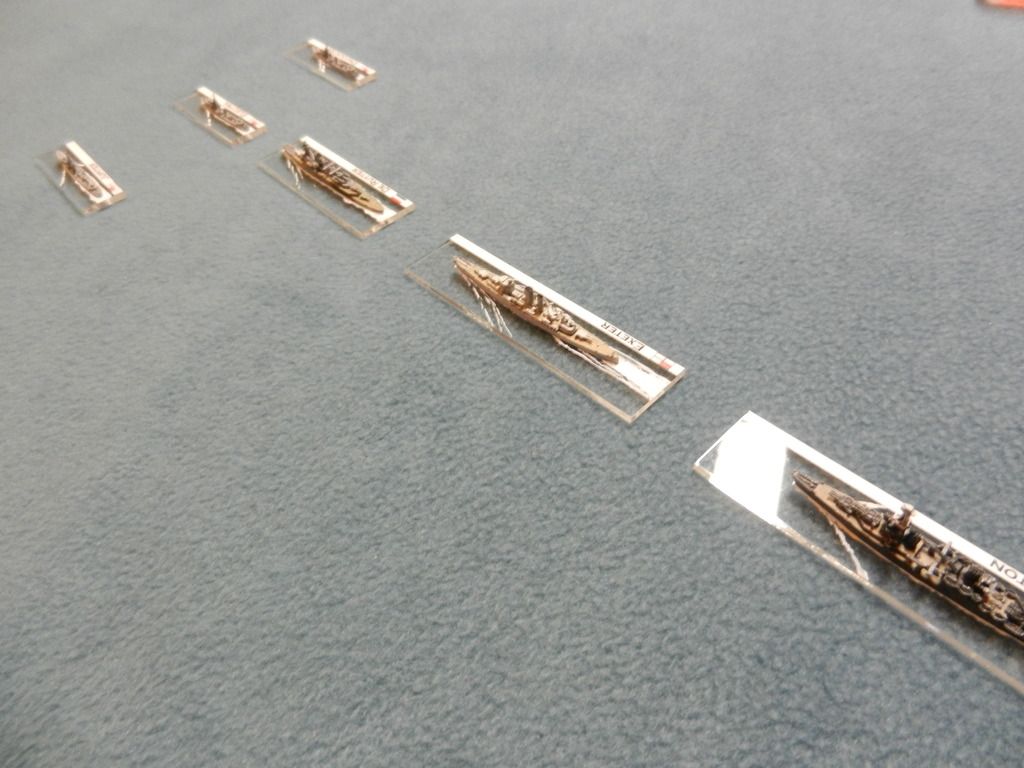 The ABDA fleet sails toward the Japanese.
Allied DDs make smoke to shield their cruisers.
The Japanese destroyers seemed to hang back at the beginning of the battle. Haguro draws first blood with an 8 inch shell hit on the Witte de With. The shell passes completely through the DD before detonating. Perth answers by knocking out a turret on the Jintsu.
Nachi concentrates her fire on the Exeter landing two hits causing flooding.
Haguro switches her fire to Houston, taking out a main battery turret.
Nachi fires a full broadside of ten 8 inch shells again at Exeter. Three shells penetrate the British cruiser causing additional damage and more flooding.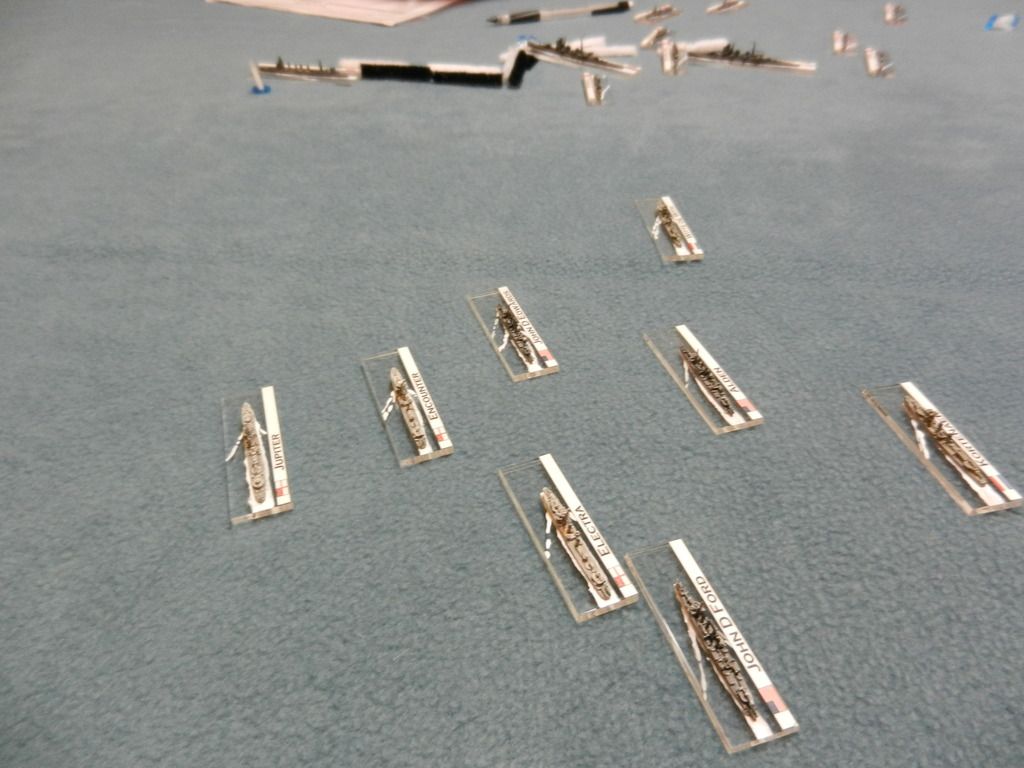 The allied cruisers continue on a northwesterly course, while the destroyers break off to begin their torpedo runs.
DeRuyter scores an unlikely hit on the Nachi. The shell penetrates to the forward magazine and Nachi is consumed by a massive explosion.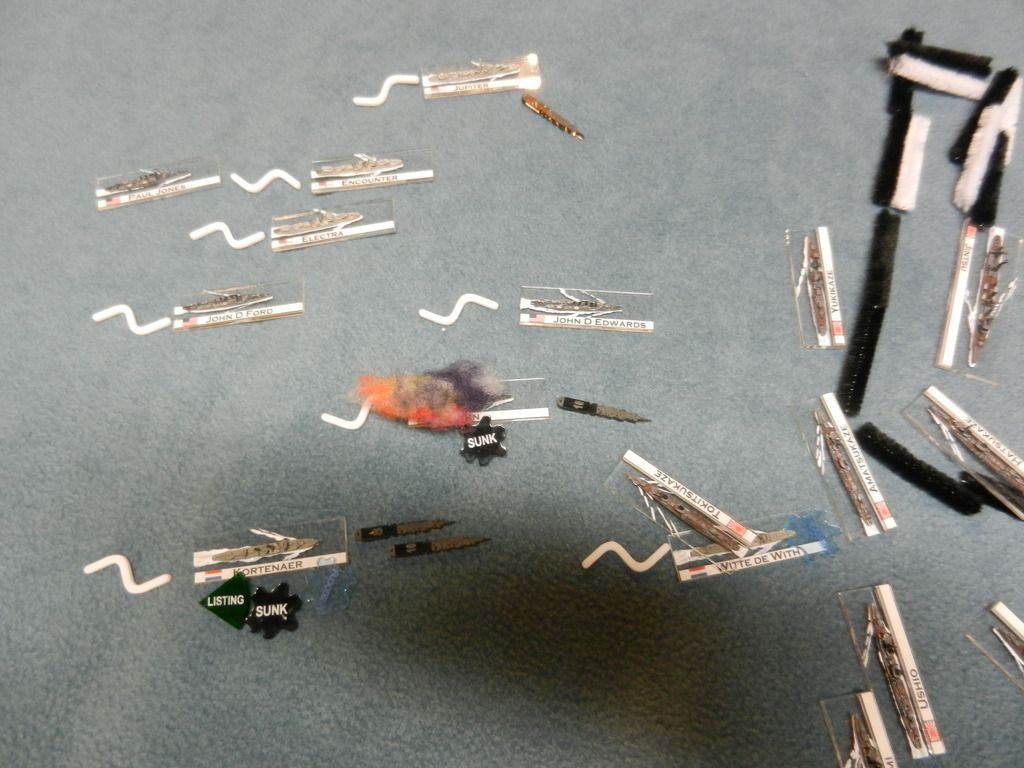 Destroyers mix it up at close range. Torpedoes in the water!
Meanwhile, Java and De Ruyter decide to fire on DDs and the Jintsu, where their lighter guns may have some effect. Exeter's damage control parties are unable to bring the flooding under control and the ship sinks.
Yukikaze is sunk by the Java. De Ruyter gets four hits on the Jintsu starting a fire, jamming her rudder and damaging boilers causing a reduction in speed.
Jupiter sinks Hatsukaze with gunfire. Tokitsukaze sinks Paul Jones with a torpedo hit.
Java avenges the loss of the Paul Jones by hitting on Tokitsukaze multiple times causing fires.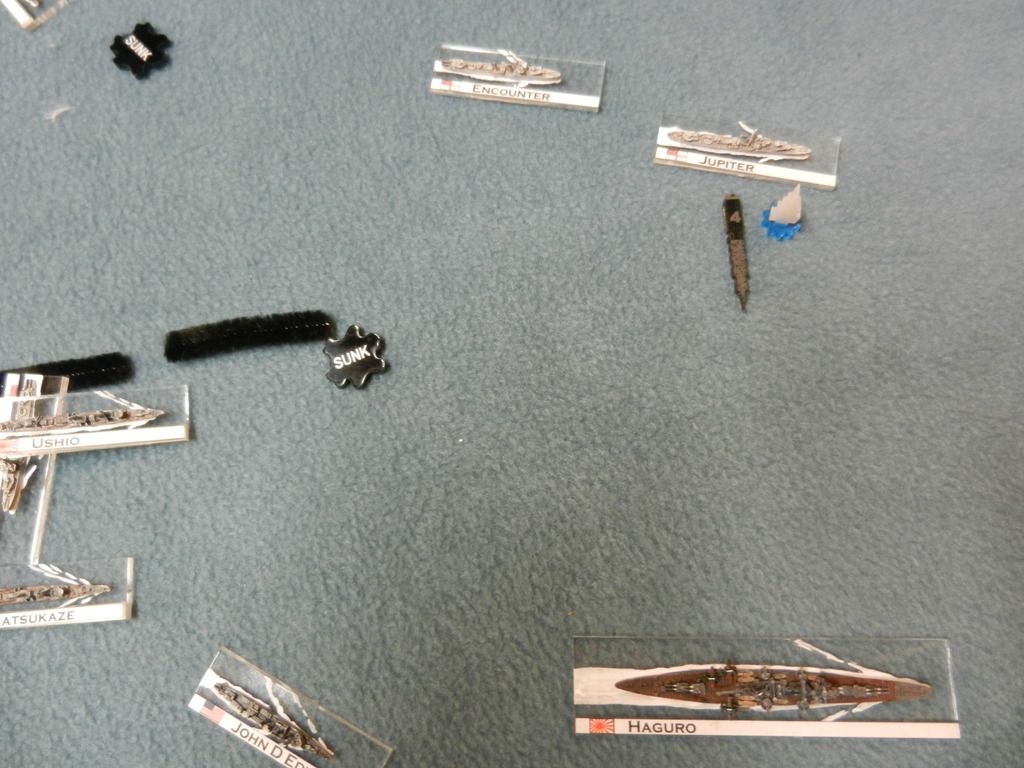 Haguro sinks Jupiter with a torpedo.
The sea is covered with the oil slicks from the ships that went down.
Ships lost during our battle.
Overall, the Allies fared better in our game than they did in the actual battle. Giving the Japanese fewer ships to start with obviously helped. The aggressive use of destroyers by the Allied captains and the lucky magazine hit on the Nachi were also factors. When we called the game, the losses were fairly even, but the Allies lacked the strength to continue the fight. Houston was nearly sunk and was retiring from the battle having lost her two main battery turrets (the rear turret had been knocked out before this battle during an earlier attack). The Japanese would have been able to continue on with the invasion.